League: Milton Keynes 14 – 8 Brighton Panthers
As the "mini beast from the East" hit the country, Brighton made the long trip north to be faced with sub-zero temperatures but no snow so it was game on at Stantonbury. With his team's game cancelled, Chris White joined the referee crew with Rob Gooch and Claire Stewart in a competition for who could wear the most clothes. We all had referee stripes under our winter coats but no one was taking them off today. It was great to have a 3-man referee crew – something lacrosse in the south needs to develop – we need more referees. If anyone reading wants to get involved and help referee Milton Keynes home games then contact Rob Gooch (see Contacts).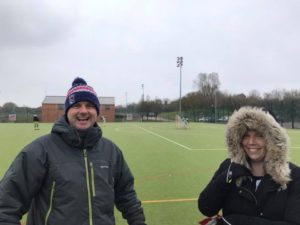 In the two squads there were some minor clothing rule violations where sense prevailed, i.e. leggings or full-on tracksuit pants under shorts that were not "the predominate team colour". Most were also wearing hoodies under their team jerseys.
To the action. Milton Keynes started in a bit of a mild panic, unable to pick up the ball and got woefully out of shape in defence to gift Brighton two early goals from one of their danger players, Harry Armitage. A timeout allowed coach Rob to switch out of referee mode into coach mode to remind players to stay calm, pick the the ball, get into space and make a safe pass to a team mate. From then on ground balls were much better and eventually defenders Aaron Day and Ben Nightingale arrived pitch side. Apparently Aaron was "driving like an old lady" in the millimetre of snow that had fallen overnight. Milton Keynes now could line-up as per the pre-game plan, with a strong defensive trio plus a long stick midfielder (LSM), captain Jack, Brett and Matt in attack, and everyone else doing the hard running in midfield.
Rob's team talk at quarter time was focussed on negating Brighton's two danger players, Armitage in attack and their handy Canadian in midfield. Charlie denied Armitage for the rest of the game keeping him only to his early two goals, which must be his lowest haul all season. We managed the Canadian the best we could either via big George (playing midfield today instead of defence) or with LSM Christian Brown. He still scored five goals but we were banging them in up the other end.
Milton Keynes were getting the better of Brighton in every department but it was still tight at 7-5 come half time. None of Brighton's recognised goalies were available today so defender Kieron was between the pipes and he made some good saves early on but we found his weak spots as the game wore on. A big turning point was a very late goal from MK's vice-captain Corey Jamieson just before the half-time whistle. With the referee giving a five second verbal countdown, Corey's shot crossed the goal plane with two seconds remaining. The two-goal lead gave MK plenty of confidence going in the half time break.
As expected Brighton would come out hard in the third quarter. They have had a strong season, beating us earlier at their place and again when we met in the Flags (cup) for which they have made the Minor Flags final to face Cheltenham in April. We wish them well in that and hope they bring back the trophy to the south coast. Most thought Brighton had scored the first goal of the second half that could of got some MK nerves jangling. The beauty of having three on-field referees, the preferred/ideal number, is three sets of eyes. Chris White's position was perfect in line with the goal so he could see the Brighton scorer with a foot in the goalie crease. Goal scrubbed off and MK back on the attack. Brighton, and that Canadian, were not defeated yet. He scored three goals, MK only two, making it a one goal game after three quarters, 9-8 to MK.
An interesting referee situation had also occurred. Possibly due to the cold conditions, possibly due to other physical factors, but Claire's bra had broken. She was restricted to refereeing with her arms providing that missing support. I guess lucky it was not mid summer and 30C+ temperatures.
A one-goal game with 20 minutes remaining. MK were well up for winning this. Things started well and it turned into the perfect final quarter for the boys in green. Toby Jeffries scored his second followed by a long range rocket from George. The three goal lead seemed to knock some stuffing out of Brighton. A couple more goals from Matt and Corey with his hat-trick iced the game.
Even with the loss, Brighton should still win East Division Two provided either of their remaining games vs Reading 2's and Buckhurst Hill are completed, and even then East Grinstead A need to beat both London Uni and Guilford.
The likely final top three in East Division Two are probably;
Likely 1st = Brighton Panthers
Likely 2nd = East Grinstead A
Likely 3rd = Buckhurst Hill
Possible 4th = Milton Keynes ???
Milton Keynes play Cambridge Uni 2's next weekend and if that ends with another win then we will be battling for 4th spot in a very close battle with Reading 2's and Guildford. If we end up level on points with Reading 2's then our better head-to-head record will come into play. We still need to beat Cambridge next week but a 4th place finish would be fantastic in a season where we had a disappointing 6-game losing streak from December to the end of February.
Game Stats
14:8 (2:3, 7:5, 9:8, 14:8)
MK Man-to-the-Match: Corey Jamieson
MK D-of-the-Day: Aaron Day