Midweek training from January 2017
The last midweek Tuesday training session will be Tuesday 6th December 2016. We then have the mid-season break for Christmas and the New year.
Training then restarts on Tuesday 10th January 2017
Club midweek training is held on the astro field at Stantonbury Campus. Click here for more info about Stantonbury including maps.
Training starts at 8pm on the tennis courts beside the astro field with light fitness, basic lacrosse skills and a proper warm-up. We then move onto the astro at 8:30pm and get straight into full tempo lacrosse drills. We technically finish at 9;30pm but sometimes play on until 9:45pm.
NEW FOR 2017 – From January 2017 we will offer a reduced cost for training for under 18's of £2.50 per session, or £25 for the full 12-week programme.
Training costs for senior players, i.e. those aged 18+ will continue to be £5 per session or £50 for the full 12-week programme.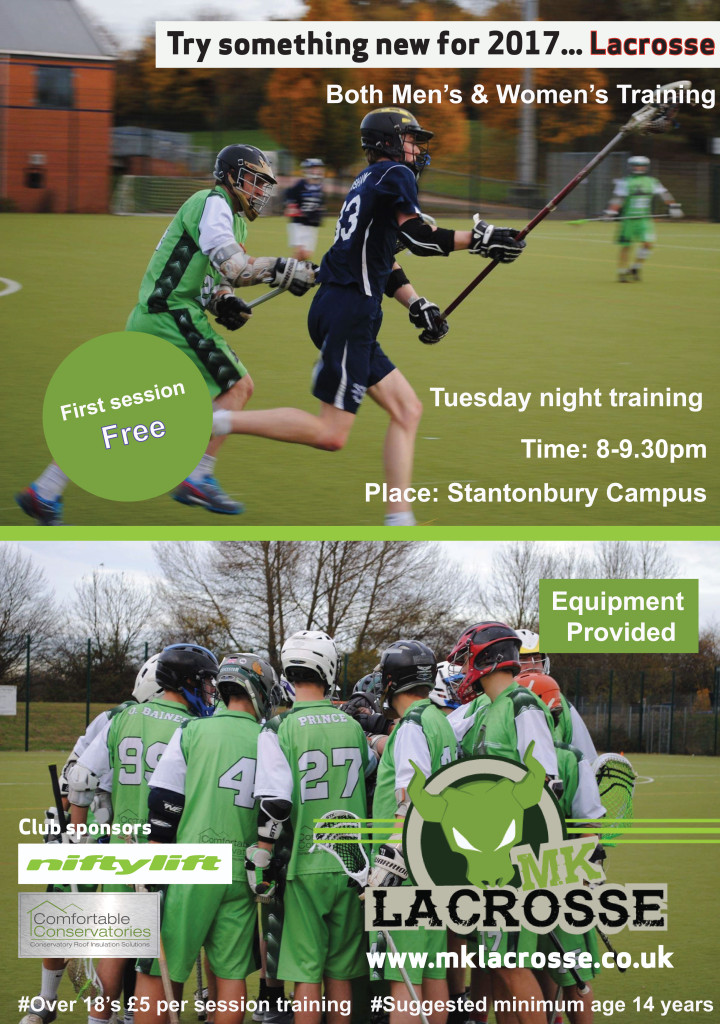 Training is open to all players or any level from absolute beginners to those at the top of their game. Training is mixed, men and women, boys and girls. We have a suggested minimum age of 14 years for juniors as drills are run with senior/adult players but we've welcomed players aged 12 and 13 to training once we've spoken to their parent/guardian and all parties are comfortable.
For absolute beginners we have club equipment that can be borrowed. We have a stash of women's sticks, and the men's equipment of stick, gloves, helmet and a collection of arm and shoulder pads. So if you are new to lacrosse there's no need to invest in your own equipment straight away as you learn the game.