Midweek lacrosse training starts Tuesday 20th September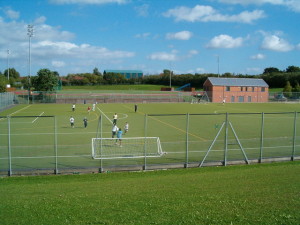 Milton Keynes club midweek training at Stantonbury Campus restarts on Tuesday 20th September, from 8pm until 9:30pm (sometimes 9:45pm when we have opportunity). Click here for more info about Stantonbury including maps.
Training is open to all players or any level from absolute beginners to those at the top of their game. Training is mixed, men and women, boys and girls. We have a suggested minimum age of 14 years for juniors as drills are run with senior/adult players but we've welcomed players aged 12 and 13 to training once we've spoken to their parent/guardian and all parties are comfortable.
We start with a warm-up and basic skills on the tennis courts beside the astro from 8pm until 8:30pm, then we move to the astro fully warmed up and get straight into drills and game scenarios. Most drills are run as a mixed group (men & women) but we break into separate gender groups using each end of the field to work on specifics for each format of the game.
Club coach, Rob Gooch, runs each training session, supported by Rosanna Single and the men's co-captains, Nathan Villiers and Andy Kenyon.
For absolute beginners we have club equipment that can be borrowed. We have a stash of women's sticks, and the men's equipment of stick, gloves, helmet and a collection of arm and shoulder pads. So if you are new to lacrosse there's no need to invest in your own equipment straight away as you learn the game.
Other than specific lacrosse equipment players need to wear shoes suitable for carpet-like astro, for which either running shoes or shoes with very small moulded studs are best. All players should bring a mouth guard. A mouth guard is mandatory when playing games so best to get used to one in training. Clothing depends on the weather so in in doubt bring layers to add/remove as required. Finally, lacrosse is high intensity exercise so bring a drink!
Training will run for 12 weeks before Christmas/New Year, then for another 12 weeks from Tuesday 10th January 2017.
Training costs £5 per session and can be paid in cash at each session. Those brand new to lacrosse attend their first couple of sessions for free. If you plan to attend most sessions then we encourage players to pay up-front which includes a small discount. Pay for 6 sessions for £25 or pay for 12 sessions for £50. Our club treasurer will explain how to pay for training on the 20th September but we prefer direct bank transfers into our club account.