It's all about the box – WILC2015
The lacrosse world has it's eyes fixed on the birthplace of lacrosse, the Iroquois Nation, as they host the 4th World Indoor Lacrosse Championships, commonly known as "Box Lacrosse".
Team England play in the top "Blue Division" alongside the powerhouse teams of Canada, USA, Czech Republic and the hosts, the Iroquois Nation. Eight other teams play in two lower divisions, including Ireland and Australia. Any team, in theory can win the gold medal by winning all their games but everyone expects the final to be a showdown between Canada and the hosts.
At the time of writing, England had played their first game, losing 9-7 to the Czech Republic, in an epic game that was close right until the dying seconds. England now face three tough games in three days against the leading nations of indoor lacrosse.
UPDATE #1: Last night England put down an unbelievable performance against the USA, to lead 7-6 at half-time, but to just fall short against the all-pro USA attacking force lead by All-Star Casey Powell who ended up winning 13-9. The UK-based amateur players did not look out of place against the pros.
One of the highlights was near the end when back-up goalie Elliot Pugh from the Maidstone club got into the action as England pulled their starting goalie to play man-up to find an extra goal. The commentators went wild as Pugh sprinted to the England goal when possession was lost.
The final is Sunday 27th September, streamed live online via the WILC2015 website, starting around 9pm UK time.
All the games available to re-watch on the World Indoor Lacrosse Championships YouTube Feed.
---
Back in Milton Keynes we plan to embrace indoor lacrosse by organising an "Introduction to Box Lacrosse" events at the Midlands Arena in Lutterworth on Sunday 29th November 2015.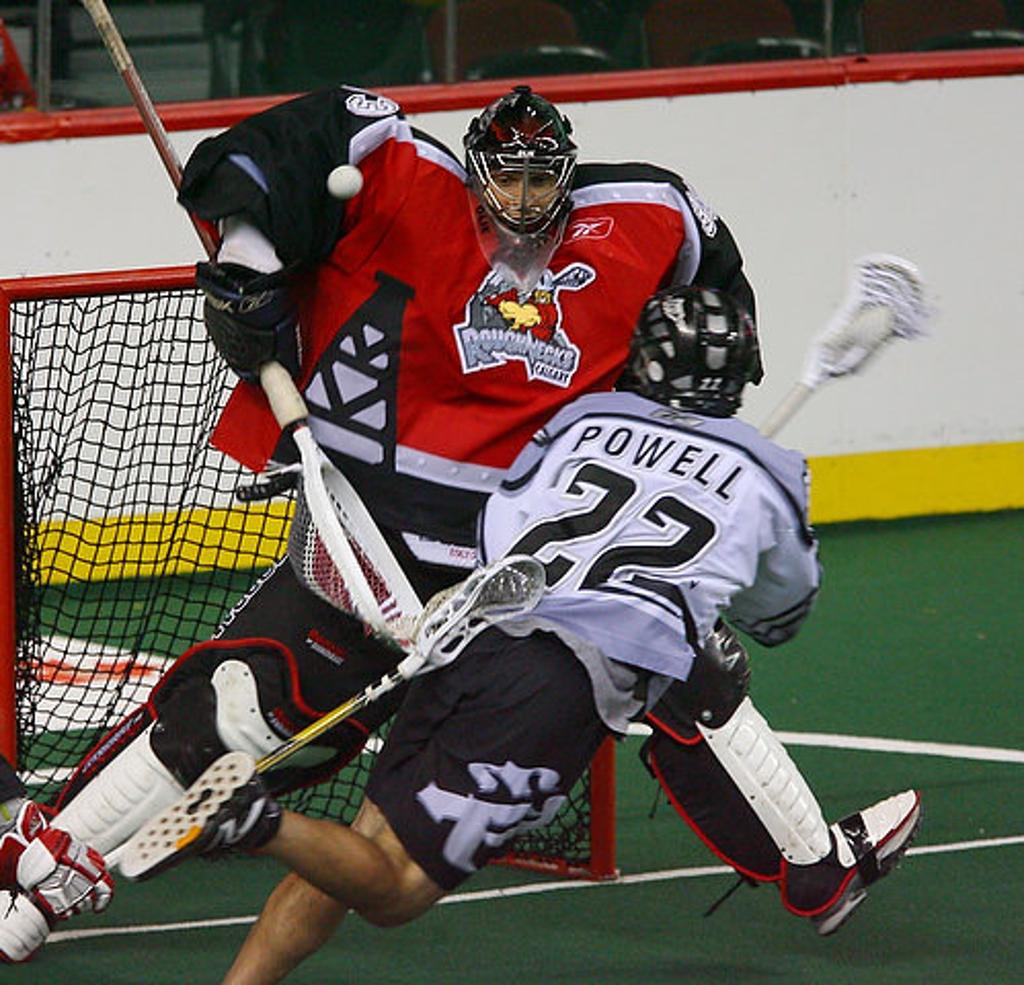 The aim is to give players their first taste of indoor lacrosse. We can't expect everyone to go purchase the extra protective equipment needed to play indoors, safely, naming strong rib pads and bicep pads, so we'll play no cross-checking rules. All hits must start with the hands, together on the shaft, as in field lacrosse. Other aspects of box lacrosse will apply, e.g. 2-step moving picks, screens and blocks, tiny 4″x 4.9″ goals, and provided the two southern-based England goalies can attend, the full goalie equipment.
7 reasons to play box lacrosse (for field players)
7. FASTER PLAY | The game speed is much faster than anything you would see in outdoor field lacrosse. It makes playing outside seem like going in slow motion.
6. STICK HANDLING | Playing in closer spaces means your stick skills have to be tighter and quicker. Your stick handling improves because there is no room (time or space) for error.
6. TRANSITION | The ball moves from defence to offence in a second. Players learn quickly to breakout, sub-on/off, move the ball up the field, and never mentally switch off.
4. DEFENSIVE BODY POSITION | No long D-poles means that defensive players have to use good body position. Transfer that into field lacrosse and add a 6′ long pole and you become a better defence player.
3. OFF-BALL MOVEMENT | Playing in such a tight area means it is that much harder to get open. Running through people to go to goal just doesn't work. Players learn to cut, pick and keep in constant motion. The 2-man game, essential for successful box play, can be just as effective in field lacrosse if a team is struggling to get inside a defence and has limited outside shooting threats.
2. SHOOTING ACCURACY | With a full padded box goalie between the pipes there's only a few inches of gaps to find the back of the net. When you next play field lacrosse, the goal will seem as big as a football (soccer) goal.
1. REACTION TIME | A byproduct of playing faster is you have to react faster. That means faster to a ground ball, faster in transition, faster to play the ball, faster to shoot the ball. You name it, your reaction will get faster.