First visit to the Lacrosse Lounge in Hitchin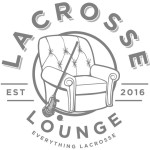 Club coach Rob Gooch popped into the newest, smallest and nearest (to MK) lacrosse shop last weekend, the Lacrosse Lounge.
It's the newest, as opened at the tail end of 2016, by Steven McDermott. Steven's been heavily involved with lacrosse for ages. He's been playing with Hitchin for years, when slightly younger was a regular Welsh international player, and has done great stuff with lacrosse development on the coaching side in the South East. His Lacrosse Lounge is a southern outpost of the Northern Soul shop up in Manchester.
It's the smallest because it's actually Steven's converted garage behind his house in a village just south of Hitchin. However it's packed with stash, plus has room for a mini bar and a sofa, as no lounge is complete without a sofa.
It's the nearest to MK, about 45 minutes drive.
The lounge has got some lovely equipment and apparel in stock, for both the men's and women's games. Prices are as per the Northern Soul website or less.
To arrange a visit contact Steven via any of these channels; Facebook, Twitter or telephone (07794 171725).